EASTWEST (soundsonline.com) is the #1 producer of virtual (software) instruments in the world. With clientele that spans the music, film, television, games, multimedia and performing arts, EASTWEST has led the industry for 30+ years and provides professionals with the very best music creation tools available.
Virtual instruments enable composers and others involved in music production to use music keyboards connected to computers to create music that is virtually indistinguishable from a live performance, at a fraction of the cost. A high percentage of the music produced for all media today is produced on computers using EASTWEST Virtual Instruments.
EASTWEST won the NAMM TEC Award "Best Music Software Instrument" for Hollywood Choirs, the industries top award. Pictured receiving the award are (from L-R) Dinshah Sanjana (Vice-President of Sales), Rhys Moody and Blake Rogers (Production Coordinators), Wolfgang Kundrus (Software Development), and Doug Rogers (Producer).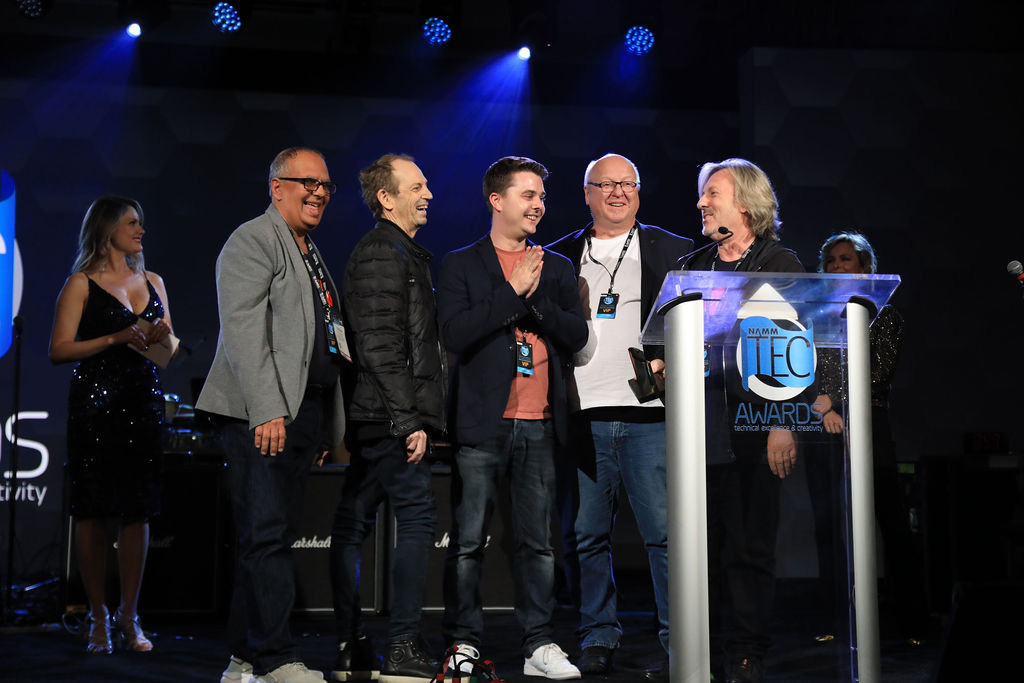 EASTWEST/QUANTUM LEAP virtual instruments are considered to be the best available, and are used and endorsed by the who's who of the music, film, TV, and games industries, including James Newton Howard (The Hunger Games, King Kong, Batman Begins), Danny Elfman (Fifty Shades Of Grey, Silver Linings Playbook, Alice In Wonderland), John Powell (Solo: A Star Wars Story, Rio, Kung Fu Panda), Brian Tyler (Avengers: Age of Ultron, Iron Man 3, Thor), Jeff Beal (House of Cards, Blackfish, Rome), Thomas Newman (Skyfall, Saving Mr. Banks, Wall-E), David Newman (Ice Age, Tarzan, Scooby-Doo), J.J. Abrams (Director/Creator: Star Wars VII, Star Trek, Lost), Zedd (Zedd, Lady Gaga, Ariana Grande), Mark "Spike" Stent (Coldplay, Lady Gaga, Bruce Springsteen, Muse), Herbie Hancock (12-time Grammy Winning Pianist and Composer), David Kahne (Producer Paul McCartney, Miley Cyrus, Lana Del Rey), David Campbell (Pearl Harbor, Armageddon, World War Z, Adele's 21, Muse's 2nd Law), Mac Quayle (The People v. OJ Simpson, Mr. Robot, American Horror Story), Alex Lacamoire (Hamilton, Dear Evan Hansen, In The Heights), Jeff Russo (Star Trek: Discovery, Legion, The Night Of), Jordan Rudess (Dream Theatre, David Bowie, Enrique Iglesias), Brody Brown Grammy-Award Winning Producer and Songwriter for Bruno Mars, Teddy Riley (Producer Michael Jackson "Dangerous" and "Invincible"), Paul 'Wix' Wickens (Keyboards/Musical Director, Paul McCartney), Rob Abernethy (Video Games: Pacific Rim, Despicable Me, Dead Space), Christophe Beck (Frozen, Pink Panther 2, Under the Tuscan Sun), Steve Jablonsky (Desperate Housewives, Transformers), and countless others.
EASTWEST launched the first subscription service in the sounds industry, COMPOSERCLOUD, which dramatically lowered the cost of entry to more than 40,000 virtual instruments included in COMPOSERCLOUD, so anyone interested in fully exploring their musical creativity could also afford it without compromise.
EASTWEST owns SoundsOnline (soundsonline.com), the #1 online source for professional sounds and virtual instruments.
EASTWEST owns and operates a large recording studio complex in Hollywood (eastweststudios.com). 136 Grammy nominations were recorded or mixed at EastWest Studios over the last decade, more than any other recording studio in the world; plus the company operates sounds and software development divisions in Hollywood, USA; and Berlin, Hamburg, and Munich, Germany.
FOUNDER & PRODUCER
DOUG ROGERS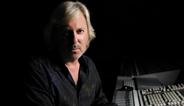 With over three decades of experience in the audio industry, founder and producer DOUG ROGERS is the recipient of many industry awards including "Recording Engineer of the Year". "The Art of Digital Music" named him one of "56 Visionary Artists & Insiders" in the book of the same name.
In 1988 he founded EASTWEST, the most critically acclaimed virtual (software) instrument developer in the world. Since then, EASTWEST has been the recipient of over 120 international industry awards. Rogers uncompromising approach to quality, and innovative ideas has enabled EASTWEST to lead the industry for over 30 years.
After forming EASTWEST, he produced the very first commercial drum samples collection, followed with a sequel co-produced with Bob Clearmountain, which was so successful a new industry was born. Rogers and Clearmountain produced subsequent releases that won many awards. In 1991, Rogers released the first collection to include midi driven drum loops, which enabled users to adjust each loop tempo in their sequencer without adjusting pitch or decreasing quality.
With sampling technology improving, Rogers released the Ultimate Piano Collection in 1995, the first multi-velocity sampled piano collection, which received many industry awards. In 1997 Rogers partnered with Nemesys to create the GigaSampler software and instrument collections, which pioneered the use of "streaming from hard drive technology", a technical breakthrough without which, the high quality virtual instruments of today would not be possible.
In 2003 he co-produced with Nick Phoenix the first surround sound virtual orchestra, Symphonic Orchestra, engineered by 11-time Grammy nominated classical recording engineer Keith Johnson, and recorded in a 'state of the art' concert hall (awarded Keyboard Magazine "Key Buy Award," EQ Magazine "Exceptional Quality Award," Computer Music Magazine "Performance Award," and G.A.N.G. [Game Audio Network Guild] "Best Sound Library Award"); and followed that release with Symphonic Choirs (awarded Electronic Musician "2006 Editor's Choice Award," G.A.N.G. "Best Sound Library Award," and Keyboard Magazine "Key Buy Award"). Symphonic Choirs and it's predecessor Voices of the Apocalypse were the first music software products to enable users to type in words for the choirs to sing in any key with a computer. This was followed in 2007 with EastWest/Quantum Leap Pianos, the most detailed virtual piano collection ever produced, also in surround sound.
In 2005 Rogers established a software development division for EASTWEST, and released the first 64-bit virtual instruments that became the new standard.
Rogers most recent productions include Forbidden Planet, co-produced with Nick Phoenix; Hollywood Orchestra Opus Edition, co-produced with Nick Phoenix; Hollywood Orchestrator, co-produced with Sonuscore; Hollywood Backup Singers, co-produced with Nick Phoenix; Voices Of Opera featuring Larisa Martinez (Andrea Bocelli's soprano) and Carlton Moe (Phantom of the Opera tenor), co-produced with Nick Phoenix; Voices Of Soul featuring C.C. White, co-produced with Nick Phoenix; Hollywood Choirs, co-produced with Nick Phoenix; Spaces II Reverb, co-produced with Nick Phoenix; Voices Of The Empire featuring Uyanga Bold, co-produced with Nick Phoenix; EastWest MIDI Guitar Series, co-produced with Nick Phoenix; ProDrummer 1, co-produced with Mark "Spike" Stent; ProDrummer 2, co-produced with Joe Chiccarelli; Ghostwriter, co-produced with Steven Wilson; Hollywood Solo Violin, Hollywood Solo Cello, and Hollywood Harp, co-produced with Nick Phoenix; Hollywood Strings, Hollywood Brass, Hollywood Orchestral Woodwinds, and Hollywood Orchestral Percussion, co-produced with Nick Phoenix and Thomas Bergersen. The Hollywood Orchestra series was engineered by 2019 Grammy winner (Best Engineered Album, Classical) Shawn Murphy (Indiana Jones and the Kingdom of the Crystal Skull, Star Wars: Episode II - Attack of the Clones, Star Wars: Episode III - Revenge of the Sith, Star Wars: A Musical Journey, Solo: A Star Wars Story, Star Wars: Rise Of Skywalker, Jurassic Park, Jurassic Park The Lost World, Harry Potter and the Prisoner of Azkaban, Titanic, Minority Report, Saving Private Ryan, Munich, The Passion Of The Christ, X-Men: The Last Stand, Memoirs of a Geisha and Ice Age, etc.); The Dark Side, co-produced with David Fridmann; and Fab Four with Beatle's engineer Ken Scott, inspired by the sounds of the Beatles. Both Fab Four and The Dark Side won M.I.P.A Awards, judged by over 100 international music magazines.
For more historical background, read the interview with Doug Rogers in Sound On Sound magazine HERE.
PRODUCER
NICK PHOENIX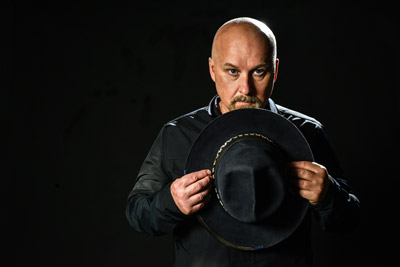 Nick Phoenix joined Doug Rogers in the early days of sampling and together they have produced dozens of the most popular virtual instruments available today. Phoenix's career has been driven by new ideas and innovation. He pioneered concepts like creating choirs that can sing the words you type on the keyboard and reverse engineered musical performances to create virtual instruments capable of flowing and expressive performances. Virtual instruments like Silk captured the "complete" sound of unusual world instruments using an innovative multi-mic, phase aligned technique. Phoenix co-produced the EastWest Quantum Leap Symphonic Orchestra and Hollywood Orchestra, the two most popular complete orchestral virtual instruments ever released. These collections were the result of many talents, with Phoenix directing the performance, attitude and articulation of the orchestra. Cutting edge reverb to accompany these orchestral sounds became an obsession for Phoenix. After many years of struggling with available reverbs, Phoenix created a method of capturing instrument specific and stage location specific convolution reverb and created Spaces and Spaces 2.
Phoenix's career as a composer has always been a huge part of what he does as a virtual instrument producer. Phoenix was involved in the birth of trailer music in the early 90s. Epic collections like Stormdrum and Voices Of The Apocalypse were created to allow him to compose huge soundscapes on a very tight schedule for blockbuster trailers. In the early 2000s, Phoenix scored over 1000 film trailers and TV ads. Phoenix partnered with Thomas Bergersen in 2006 and started Two Steps From Hell. Two Steps From Hell is credited as starting a whole new genre of music called "Epic Music." Two Steps is currently the #1 streaming film music artist worldwide with 1.6 million YouTube subscribers. Their albums "Invincible" and "Battlecry" both went gold. They are touring Europe this year.
Phoenix and Rogers have never been interested in rehashing old ideas. Every product has been an attempt to bring something new to the table. Stormdrum 3 with Mickey Hart captured unique instruments way outside the spectrum. Hollywood Pop Brass is the first pop brass collection that sounds like a hit record out of the box. Hollywood Choirs has taken the word building concept to new levels and has won numerous awards. The latest release "Forbidden Planet" is the result a 20 year journey with analogue synthesizers. It is unlike any synth plug-in ever created.
Phoenix also started a solo rock career in 2021. The band has members from John Mayer's band and Death Cab. Phoenix has described it as modern rock with classic rock undertones. It is his current passion. Phoenix has a unique website that allows you to create your own mixes of his music, among other things.
EASTWEST
RECORDING
STUDIOS
EASTWEST purchased the former Western Studios at 6000 W. Sunset Boulevard, Hollywood in 2006, and renamed it EASTWEST STUDIOS. In the past decade music recorded or mixed at the studios has resulted in 150 GRAMMY nominations, more than any other studio in the world. The facility houses five studios, and is EASTWEST's Hollywood production facility where it's sounds and software products are created and marketed. After purchasing the famous studios EASTWEST commissioned an extensive remodel of the non-technical areas by international design superstar Philippe Starck who virtually reinvented the hotel industry. The famous acoustics of the recording studios were not changed, and remain as designed in the 60s by Bill Putnam. EastWest Studios Documentary.
EASTWEST STUDIOS is the world's premiere studio. Here is a quote from page 33 of the book "Temples of Sound": "United Western Recorders has been the scene of more hit records - from the 1960's to right now - than any other studio. No other studio has won more technical excellence awards, and no other studio has garnered as many Best Engineered Grammys as this complex of studios on Sunset Boulevard". One thing everyone agrees: The acoustics and the vibe in the recording rooms of 6000 Sunset Blvd. are unmatched.
EASTWEST STUDIOS has hosted the who's who of music for over 50 years. In the beginning artists like Bing Crosby, Frank Sinatra, Dean Martin, Sammy Davis, Nat King Cole, Johnny Mercer and Ray Charles were recording the hits of the day. Sinatra's, "Strangers In The Night", "My Way", and "That's Life" were recorded here in studio 1; the legendary Beach Boys "Pet Sounds" album, which was the inspiration for The Beatles' Sgt. Peppers album, was recorded here also. The Mamas and Papas "California Dreamin", "Monday Monday", and Scott McKenzie's "San Francisco" were recorded here, all in Studio 3. Elvis Presley recorded his 1968 Christmas special in Studio 1. Famous themes for film and television were recorded here including the MASH theme, Mission Impossible theme, Hawaii Five-O theme, Beverly Hillbillies theme, Godfather Theme, plus much of the Monkees and Partridge Family television series, all in Studios 1 & 2.
It would be impossible to name all the musical royalty who have worked at EASTWEST STUDIOS, but here are some of them (in alphabetical order) Christina Aguilera, Herb Albert, America, Paul Anka, Fiona Apple, Audioslave, Franky Avalon, Barenaked Ladies, Better Than Ezra, Blondie, Buffalo Springfield, Burt Bacharach, Beach Boys, Blink 182, Glen Campbell, Canned Heat, Vickie Carr, Carpenters, Johnny Cash, David Cassidy, Ray Charles, Chicago, Petula Clarke, Ry Cooder, Elvis Costello, Count Basie & Orchestra, Eric Clapton, Nat King Cole, Natalie Cole, Ornette Coleman, Duane Eddy, Jan & Dean, John Coltrane, Petula Clark, Joe Cocker, Sam Cooke, Bing Crosby, Bobby Darin, Sammy Davis Jnr, Jackie DeShannon, Duke Ellington, Neil Diamond, Fifth Dimension, Bob Dylan, Ellla Fitzgerald, Benny Goodman Big Band, Grateful Dead, Grass Roots, Green Day, Guess Who, Lani Hall, Herbie Hancock, Hawaii Five-O theme, Don Ho, Whitney Houston, Howlin' Wolf, Janis Ian, Ike & Tina Turner, Incubus, Isley Brothers, Michael Jackson, Elton John, Stan Keaton, Carole King, Kris Kristofferson, Franky Laine, K.D. Lang, Avril Laverne, Godfather Theme, Michel LeGrand, Peggy Lee, Little Feat, Trini Lopez, Madonna, Mamas & the Papas, Dean Martin, MASH theme, Johnny Mathis, Meatloaf, Sergio Mendez & Brazil 66, Metallica, Johnny Mercer, Paul McCartney, Barry Manilow, Scott McKenzie, Natalie Merchant, Bette Midler, Mission Impossible theme, Monkees, Alanis Morrissette, Motley Crue, Muse, Rick Nelson, Willie Nelson, Wayne Newton, Harry Nilsson, Nitty Gritty Dirt Band, Ozzy Osborne, Partridge Family, Paul Revere and the Raiders, Tom Petty and the Heartbreakers, Pointer Sisters, Iggy Pop, Elvis Presley, Lisa Marie Presley, Billy Preston, Rage Against the Machine, Red Hot Chilli Peppers, Kenny Rogers, Rolling Stones, Ronnie & the Ronettes, Bonnie Raitt, Helen Reddy, R.E.M., Nelson Riddle, Righteous Brothers, Johnny Rivers, Ronnie & the Ronnettes, Dianna Ross, Santana, Jimmy Smith, Sonny & Cher, Phil Spector, Tom Scott, Carly Simon, Frank Sinatra, Nancy Sinatra, Bruce Springsteen, Steppenwolf, Rod Stewart, Mathew Sweet, Stone Temple Pilots, Barbra Streisand, System of a Down, Temptations, The Animals, The Association, The Four Tops, The GoGos, The Kingston Trio, The O'Jays, The Vines, The Who, Mel Torme, U2, Richie Valens, Stevie Wonder, Tool, Turtles, Sarah Vaughn, Jimmy Webb, Weezer, Andy Williams, Nancy Wilson, Young Rascals, Frank Zappa.
EASTWEST STUDIOS
HISTORY
EASTWEST STUDIOS was founded by Bill Putnam in 1961 with funding from Bing Crosby and Frank Sinatra.
Considered to be the "Father of modern recording" Putnam is acknowledged to be the first person to use artificial reverberation for commercial recording. He also developed the first multi-band equalizers, and with his company Universal Audio, was responsible for the development of classic equipment like the Urei 1176LN and Urei Time Align Monitors. He was involved in the early development of stereophonic recording and founded studios in Chicago, Hollywood and San Francisco. He was responsible for a number of innovations including: the first use of tape echo and echo chambers, the first vocal booth, the first multiple voice recording, the first use of 8-track recording, half-speed disc mastering. In 1957, he started United Recording Corp. in a building at 6050 Sunset and started new construction on new studios. Stereo was taking off and Putnam was determined to incorporate as many technological innovations into the new complex as possible.
In 1961, Western Recorders (now EastWest Studios) at 6000 Sunset was acquired and remodeled and incorporated into the complex with the facilities being known as United Western Recorders. Bill Putnam passed away in 1989. The studio was acquired by Oceanway. In 1999 Rick Adams acquired the studios and renamed it Cello, and in January 2006 it was acquired by EASTWEST.
Looking for a designer to take on the task of remodeling the non-technical areas, while preserving the historic studios, Rogers commissioned international design superstar Philippe STARCK, whose trend-setting work, and reinvention of the hotel industry, is known the world over for its sheer brilliance and coolness. STARCK jumped at the opportunity and headed to Hollywood. He insisted on restoring all historic elements inside and out, adding new designs to the interior, while restoring the exterior to it's original deco design. Rogers and Starck's restoration of the famous recording studios is a model for historic/cultural preservation, as well as providing EASTWEST with the finest recording environment in the world to create it's virtual instruments.
In addition to it's own use of the studios, eastweststudios.com is open to outside clients.
A privately held company, EASTWEST is the industry leader in Soundware Development and Distribution.